Have you ever wondered about the after-shocks after a birthday party? The tremors it creates lasts many decades!
But we definitely can't stop celebrating birthdays – so what can we do about it? The answer to the puzzling question
is quite simple – GO GREEN! Educate the kids about this serious problem in a fun way by recruiting GREEN commandos!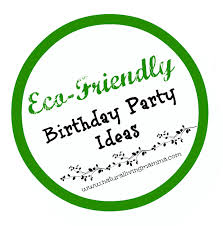 Load up your ammunition! GOOD LUCK!
Keep the invitees list small as it helps you to manage the party better especially in a "Green" theme party as you will definitely have some extra work in terms of clean-up Paper invites are so wasteful. These usually end up in dustbins – why not create usable invites?
Write your invitations on Green warrior badges :
Make party invites on a recycled handmade paper cut in the shape of a badge with the invitee's name in bold
on the back. Ask them to come to the party wearing the badge proudly as they are on a mission to
save the earth! You could even add a note, that entry will be restricted to badge owners only, to build
up the excitement. Later have them place the badge at the bottom of a mud pot, fill it with mud,
place a seed and lo and behold – you have a "green" party favor that will only continue to make our
planet a better place.
Have your child draw a picture of a birthday party, cake or anything he/she fancies, scan it and send it
across with a personal note to give it the personal touch. -Send out a fun E-Vites or create a Facebook event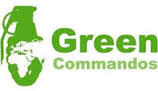 Party Decor
Go for reusable banners and decorations instead of one-time use confetti, balloons etc which generate more trash.
Party menu
Go for finger foods as much as possible – kids love them anyway and its easy on you too! Best of all - its the perfect kind of food for your theme as it doesn't require partyware!
Homemade pizza – prepare the dough and roll it out into mini pizzas or use a cookie cutter. Keep those and the toppings ready in the fridge ahead of time. Have the kids put the sauce and their choice of toppings. This can be an activity in itself!
Sandwiches – Classic Peanut Butter Jam ( PBJ), cream cheese spread with grated carrots, butter and jam – go with any or all of these and you simply can't go wrong ! You could use a cookie cutter to cut into different shapes or just go with the plain triangles depending on the age group of the kids in your party.
French fries - Homemade french fries are easy and healthier than the frozen ones but you could buy frozen ones if you are pressed for time.
Cupcakes – Here too the finger food idea works very well as it requires no plates, cutlery and best of all no mess!
Party Decor
Follow the 3 R mantra ( Reduce, Reuse & Recycle). Buy a decent set of reusable party ware which you can use and reuse for many years. Yes it does come with a minor problem of having to deal with the dishes after the party but it's still a small price to pay to reduce your carbon footprint – don't you think?
Return gift that continues to return
Trees act as a filter, cleaning the air by intercepting airborne particles, and absorbing air pollutants
and thereby reducing the greenhouse effect. So what could be a better return gift for your GREEN
party than a potted plant!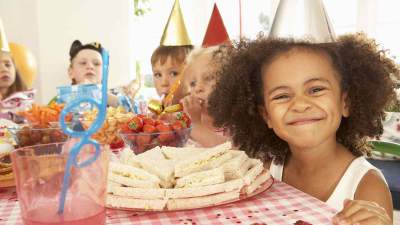 Other noble ideas
You could donate money to a charity on the child's behalf or contribute to his/her education fund.
(While those options are admirable, bring something fun for the child too! ) Give the gift of an experience
such as a movie, a play gym or a children's museum gift card.

Your GREEN party is sure to make your friends go GREEN with envy!