Birthday, as the word suggests is the day you're born physically into this world to parents you have selected. It is an important day because you are here to commence your journey on this train called 'life'. It is also an important day as your body takes one year to grow and regenerate and every year you are a 'new' person in that sense, so it is a good reason to celebrate, don't you think?! It is also a good time to thank your parents and God for taking you on this incredible journey of life.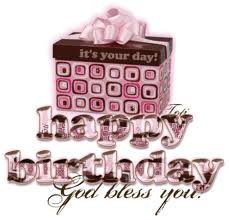 The first year of the birth is very important as you have just spent a year familiarizing with your close family members like grandpa, grandma, aunts, uncles, cousins and maybe siblings and friends of all your family members. Everyone takes care of you and all your needs are taken care of and you just have to show your approval crying or laughing! Now that seems simple enough! Everyone is always happy around you and they celebrate your arrival with your 'first' birthday.

Celebrations on birthday's vary according to cultures, communities, and race to which we belong but the premise is to get together with family and friends and share the happy occasion. For some families, they throw big parties with a cake followed by an elaborate meal. Some it means just getting new clothes and going to a place of worship and thanking God for our life on earth. For some, it is just another day in their life!
In some cultures, it is about celebrating at a place of worship. They have the priest do special prayers to thank God for a long and healthy life. At any age, a human being feels special on that day and as family and friends, it is good to validate that day and make someone enjoy and feel special on that day. There is no age limit to celebrate a birthday. From a one-year-old to a centenarian it is about celebrating life on earth and how you celebrate is your choice entirely.
On another side of all this is also another dark reality that a few people never get to celebrate their birthday as there is no proper record of their birth or they are so economically challenged that this is the least of their priorities in life. They do not even know if they have the choice to express their joy. Would it not be nice to for some of us who know about a birthday to celebrate and honor another person's day, like these people who live in oblivion, as our own? It is food for thought! Remember it is a joyful day to give and to receive!