The Garbage crisis created by us is worsening day by day at an alarming rate. The only respite to slow this rate is to practice the magical 3R's ( Reduce, Reuse & Recycle ) in our daily life and thereby play a small part in creating a cleaner & better environment. We have to inculcate this habit in our children at a very early age so that it becomes a part of the daily routine for the next generation.
Children learn the best through hands-on activities. Simple & Creative Art & Craft projects using waste materials is the ideal way to drive home the message and it sure is a whole lot of fun for adults too! We just need to use whatever waste material we have at home and come up with some easy DIY projects which could result in home decor items or gift for friends. These projects besides bringing out the creative side of children also bring about a change in their whole attitude towards waste generation and management in general.
As the Michael Jackson song says, let us create a better place for you and me and the entire human race, shall we?
Recycled Material Gift Box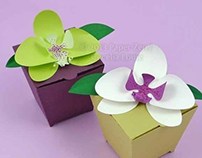 Materials required :
- Juice Tetrapack
- Scissors
- Hobby Knife with Safety
- CapRuler
Instructions:
1. Rinse and clean the empty juice tetra pack carton and cut off the top part using scissors. It might be easier to first score out a line on the carton with a sharp knife and then cut using the scissors... Dry out the inside of the juice carton with a towel.
2. Gift Box: Using the ruler, measure and mark about 4 inches along all the 4 corners and cut up to the mark using the scissors. Now you must have a cube-shaped box with 4 flaps. Just fold all the four flaps inward along each edge of the carton.
3. Handles: Mark a horizontal line halfway across any pair of opposing flaps. According to your preference for handle shape, cut out the handle out of the top half of the flaps using a blunt craft knife and fold the handles upward along the marked line. Cut out all the extra carton material around your chosen handle shape so as to give proper shape to the handles.
4. Cut verticals slots across the other pair of opposing flaps for the handles to pass through and smoothen the sharp edges using the scissors. Pull out the handles through the slots and cover the box with any leftover fancy fabric. Adorn the handles with a golden bow. Voila! You have created wealth from waste.
5. You can add a small mud pot with potting soil and a seed packet to the gift box and make it a truly GREEN GIFT!
Such activities keep the kids engaged at home while teaching them the important lesson of recycling waste material and thereby generating minimal waste.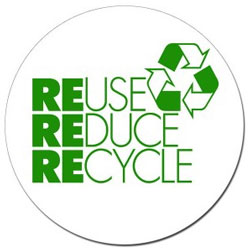 GO GREEN !!!