Let Us Take Recycling Up A Notch - Let's Upcycle!
We all know what Recycling is but what is Upcycling?
Upcycling is the art of transforming waste materials into useful and aesthetically appealing decorative products. While Recycling breaks down waste materials into their base form and makes new products from it, Upcycling simply transforms them into something completely different and beautiful without actually breaking it down - it just gives it a Make-Over!
Recycle = Waste materials ---> base materials ---> New Product
Upcycle = Waste materials ---> Make-Over ---> Designer Products
Upcycling is Greener Recycling! How?
While both help in minimizing waste materials ending up in the global garbage stream, Recycling requires valuable sources of energy to break down the waste materials into its base form. Upcycling on the other hand only requires your creativity and some elbow grease.
Here are a couple of ideas but you can upcycle just about anything - Jeans, suitcases, tires, juice cartons, newspapers, metal cans etc - its as simple as - if you no longer require it, just Upcycle it - it's as simple as that!
1. Mirror Racquets
Give your old Tennis or Badminton Racquets a Make-Over!
The older the better - Retro ones work amazingly as designer decor!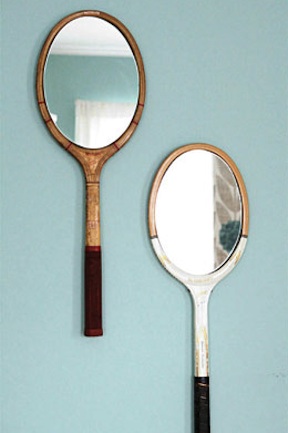 Just cut out any chipped or broken mirror you may have at home or buy one cut in the desired shape and fix it to the net area of the racquet.
What a Cool 'n' Sportive way to REFLECT your kid's passion in his / her room!
2. No-Sew T-Shirt Tote Bag
A perfect way for kids to hold on to their favorite T-shirt, a little longer - literally!

And making it is as simple as 1....2.....3 !!!
Step 1: Cut off the bottom hem, sleeves and neckline of the T-shirt making sure the neckline is cut deep enough to give a wide opening for the bag. Wide neckline cut will give a wider mouth to the bag and can hold bulky stuff like books easily.
Step 2: Turn the T-shirt inside out and draw a line at the desired length from the bottom of the bag. Cut off slits from the T-shirt bottom up to that line. Tie the front and back strands together and then tie the adjacent strands together to close out the gaps in between the knots.
Step 3: Turn the bag right side out and Voila! You have your own handmade cloth Tote Bag and you didn't even have to touch the sewing machine! If your kid prefers to have the strands dangling down, just don't turn the T-shirt inside out in step # 2 and proceed!
Your kids would be proud to carry their own handmade bags to their holiday classes, music classes and pretty much wherever they go! In case your boy isn't too happy about the Tote shape of the bag, you can stitch the bottom, instead of cutting strands, to give it a more geometrical look too!
UPCYCLING IS SO COOL!