Smoking Hot Pipe Cleaners To Smoking Hot Craft Material!
PIPE CLEANERS or Chenille Stems, as they are known in the Craft World, are nothing but a type of brush originally meant for removing moisture and residue from smoking pipes. The original ones were only about 7 inches long whereas the craft ones vary anywhere up to 20 inches!
The flexibility and texture of pipe cleaners make them the perfect craft material for kids to work with for creating their unique designer creations. Plus you can make an array of craft with just pipe cleaners alone - not even glue or tape! How cool is that! There just couldn't be a safer product that parents can have children handle all by themselves!
Here are some Crafty Pipe Cleaner Ideas :
1. Pipe Cleaner Flowers :
Pipe cleaners are such a versatile craft material that your little one can create even a miniature model of a garden complete with butterflies too!
Twist away the pipe cleaners into swirls for the flowers and attach a pipe cleaner as the stem just by twisting it around the flower head bottom - no glue required. Make a bunch of them and stick them into a small can or pot-shaped container with thermocol or sponge inside to hold the flower stalks and cover with coir or brown wool.
Just wrap a ribbon around the Pipe Cleaner Bouquets in a pot and you have a wonderful gift handmade by your precious little one! Makes an awesome Mother's Day gift too!
2. Pipe Cleaner 3D Geometry:
Build up closed 3D Geometrical shapes using pipe cleaners and straws. The pipe cleaners would be the edges and the straw cut into the desired length would work as the corners to hold the pipe cleaners. What an amazing way to learn Geometry!
3. Pipe Cleaner Animals: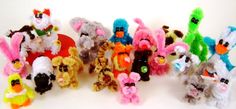 Pipe Cleaners and Googly Eyes are all you need to make your own animal farm!
Twist the pipe cleaners into desired animal shapes and stick on the Googly eyes - it's as simple as that! Pipe Cleaner Spiders attached to fine threads hanging from the ceiling make wonderful Halloween decor too!
4. Pipe Cleaner Bookmarks:
Bookworms are bound to be wriggling up with excitement as they make these fun Pipe cleaner Bookmarks! The bookmark can be their choice of flower, animal or even a cute worm for the bookworm!
Here's how you can make a Flower Pipe cleaner Bookmark :
1. Twist 2 length pipe cleaners into flower petal shapes until you have reached the end.
2. Twirl a half long piece of pipe cleaner around your finger into a spring shape.
3. Lay the two flower shapes on top of one another and then twist the spring you created in the step above, around the two flowers at the center to hold them together.
4. Turn the flower head over then insert the second 1/2 length piece of pipe cleaner into the back loop where you twisted the spring around the flower center. Twist to affix and you will create your stem.
5. Funky Pipe Cleaner Eye Frames: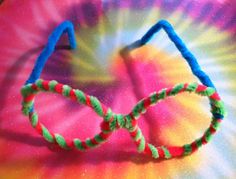 All you need are Pipe Cleaners and more of them for this little project! Few twists and turns and lo and behold you have funky glasses! This has to be the easiest craft possible - ideal for little ones to do all by themselves!
Ask your little one to pick out 2 funky colors of pipe cleaners and twist one of them for the frame and the other color for the legs or temples of the frame. Funky fluorescent color Pipe Cleaners works best! Go ahead and have your little invite friends over and craft up these funky glasses and then have a Fashion Parade with each one modeling their own designer creations!
The craft possibilities with Pipe Cleaners are truly endless - you could make bracelets, princess wands, tiaras, little hair clip decors, Christmas decorations, pencil toppers, puppets and a whole lot more! This summer bring home some funky colored Pipe cleaners and transform those hot & dull summer afternoons into cool & bright craft sessions!
HAPPY SUMMER CRAFTING!