JUST POP IT !!!
Pop-Up Cards are one of the most interesting and Fun-to-make cards for kids. They love receiving it and are even more excited to make them on their own for their friends and family. The Pop-out image takes them by surprise and puts a beaming smile on their face and they love to share that excitement with their near and dear ones.
Summer holidays would be a perfect time to plan a DIY card activity day and make a bunch of greeting cards for the entire year so that you always have them in hand. For the pop-up cards, the outer card making can be made ahead of time and at the time of gifting your little one only needs to make the occasion based pop-up! What a time saver!
Materials required :
- Handmade Paper / Thick Photocopy Paper / Corrugated paper ( Inner card )
- Colorful construction paper ( Outer card )
- White Glue
- Scissors
- Crayons
- Envelopes
Steps :
1. Cut a piece of thick paper for the outer card to the desired card size.
2. Fold the paper in half and cut two parallel slits on the folded side of the paper, about one inch apart and about one inch long. You could vary the size of the slit depending on the required size of the pop-up.
3. Fold the tab up, crease it, open it and pop the paper towards the inner side of the card.
4. Cut out a piece of construction paper of your chosen color, to a slightly bigger size than the outer card paper. Stick both the outer and inner card papers together ensuring that the pop-up is intact.
5. Decorate the cards with crayons, watercolors or even poster paint. Let the colors dry and then stick on some foam stickers as per the occasion. You could have a foam sticker on the pop-up too! When the card is done, glue the pop-up piece in place and let it dry for about an hour.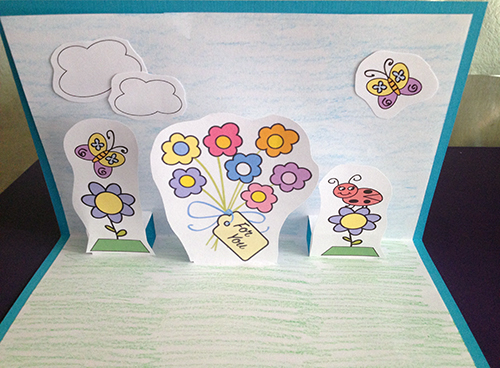 HAPPY POPPING THIS SUMMER!