Best Hair Colours for spring 2018
Gaurav Gupta - Feb 16, 2018
Spring is the times of freshness, of colours, of new blossoms all over. Matchup to this newness, this times of the vibrant blossoms and freshness as you add some natural hair colour to your tresses heralding the onset of spring in your life as well. In contemporary times, experimentations with natural hair shade have been taken to a new level altogether. Flaunt the style statements of the trendy fashion protocols as you color your beautiful hairs in a variety of unique ways and grab those eyeballs wherever you go.
Now that spring is knocking at the door, why not rock the natural hair colour trends of the season, as you perfectly flaunt the tresses in gorgeous styles while opting to do so with natural hair colour? Take a break from the monotonous look as you splash some attractive hues to your locks in sync with the current trends in fashion.
Blue Streaks:
This attractive hair shade happens to be the latest obsession among the women who are eager to flaunt a streak or two of the blue colour. It works for both dark and light hair colors.
All you need to do is dye the required sections of the hairs to get the desired streaks with the Indigo natural hair shade that is known to tone the strands of hairs with a natural blue shade.
Balayage: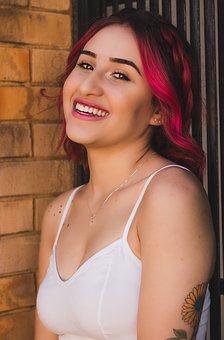 Balayage is one of the most popular hair color trends of the current times that is expected to be well sought after in the spring of 2018. It is an excellent hair colour style that makes the highlights look naturally sun-bleached.
Choose a contrasting hair dye shade and remember to apply your favourite natural hair colour very lightly at the base of the selected hairs and a heavy application of the same at the tips to bring out this exclusive effect perfectly.
Ombré:
Ombré is a French word that means shadow. For the perfect blending of your natural hair colour into another while it acts as a shadow, opt for this style with light golden brown color if you happen to have dark coloured hairs.
Choose a natural hair color like Indigo and club it with a required proportion of Henna that gets you the tint that you seek and add that splash of colors to the strands and let those captivating tresses do all the talking.
Highlights:
Get blond highlights or a darker shade of browns like mahogany or black cherry in contrast to your normal hair colour.
Use a hair hue cap that helps to get natural hair colour highlights at home before you apply the dye.
Dip Dye:
Getting the hair tips dyed green happens to be another recent natural hair colour trend which helps to flaunt a funky sense of style.
Get the hair tips bleached after you have used Indigo on the same and get green dip-dyed tresses naturally that shall make you wear the contemporary fashion trend in the spring of 2018.