Why should the grown-ups have all the fun? Kids can have a rocking New Year's party too! ( with the minimal adult supervision of course ) Ring in the New Year with a Kids Party Bash In case your kids are too young to stay up for the actual countdown, you can arrange a mock countdown for them at a more appropriate time, say 8 or 9 pm.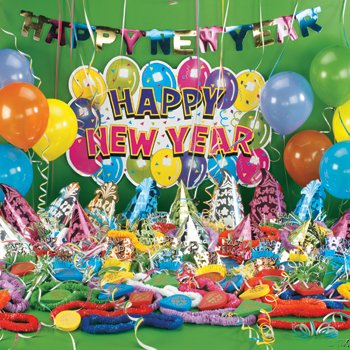 Countdown – tick tock......
Make sure you change all the clocks in the house accordingly, or else they are not going to buy it! You could have a countdown shouting contest for the little ones – they will love it! A minute before their midnight, distribute noisemakers, party hats, confetti, and balloons to toss up into the air when the countdown ends. This is a great way for kids to be a part of the celebration but still get to bed on time. However, you may allow kids, who are 10 and older, to stay up until midnight to ring in the New Year with all their friends.

Homemade New Year Noise Maker!
Materials needed:
2 Paper Plates, Crayons, Dried beans, Stapler, Craft Stick, Tape.
Decorate the paper plates however you want. Put one paper plate on the table, with the right side up. Tape a craft stick to the rim of the plate leaving out part of the stick for a handle. Place the other paper plate on top of the first one, right side down. This will make a gap in the middle. Start stapling the edges together. Leave an opening to slide a handful of dried beans in. Finish stapling it shut
New Year Toast
What could be better than a warm cup of cocoa topped with marshmallows, on a chilly winter night? Keep their warm cocoa ready in some fancy cups for them to toast and welcome the New Year. If anyone is lactose intolerant, or simply doesn't like milk, have some ginger ale, or any kid-friendly fruit punch, ready as well.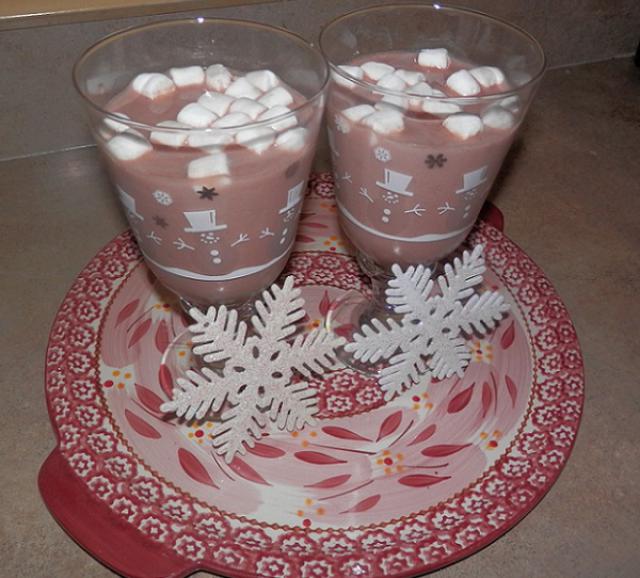 Snack Attack
Kids are usually not used to staying up late and they are bound to get hungry waiting to ring in the New Year.
So the cocoa toast alone is just not going to cut it – you need to plan for some munchies as well. But we got it all covered for you – we'll show you how to make it a fun activity time as well!
Lay out all the snacks on the dining table and let them fill up their own brown paper snack bags to enjoy at midnight. You will need:
- Brown paper bags
- Art supplies to decorate the bags
- Cookies
- Candy bars
- Fruits
- Trail mix
This way you get to keep the kids occupied in a fun way while filling up their fuel tank!
Games Galore!!!
1. Where did the clock go
Hide an alarm clock somewhere in the room with the alarm set to go off in a minute. The kids need to find it before it does! You could also hide several clocks, and set them all to ring at same time. Once they start ringing, kids have to find them all and turn them off while someone counts down from 10 to1. You could also turn this into a scavenger hunt!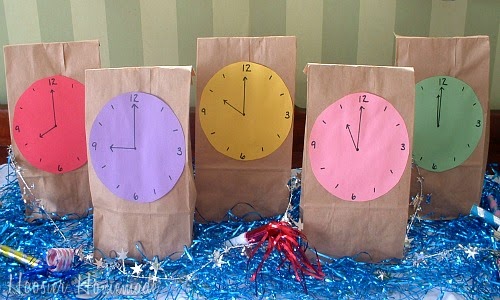 2. Dumb charades
Fill up a party hat or any decorative unbreakable bowl with small bits of folded paper carrying the New Year topics for the kids to act out to their teammates. Keep another empty bowl next to it for putting the notes once they are done. Divide the children into two teams. A child from one team will come and pick a note and read it and put it in the second bowl. Now they will act out to their teammates and make them guess what was written in the note. If they guess correctly, their team get a point. The team that gets the maximum points is the winner. You could have bars of chocolates for the winning team, and, in the new year's spirit, hand out chocolates to the losing team as well!
Dumb CharadesTopics - New Year's Eve, Noisemaker, Countdown, Party dress, New Year cake, Resolutions etc...
These ideas work amazingly well with the game of New Year's Pictionary too!
3. Bring out the singer in you!
Yup, you guessed it – its Karaoke night! New Year's Eve is all about noise and more noise! Make their New Year's party come ALIVE with rocking karaoke of age-appropriate songs popular with kids. Plug in the karaoke machine, turn up the volume and let them "sing" in the New Year! You can even set up a playlist of songs with a New Year's theme Let them ROCK ON until midnight!
4. What's my New Year's resolution!
Keep a hat and a small notepad with a pen near your home entrance. As the kids arrive for the party, ask them to write down their New Year's resolution, and fold its input in the hat. Take out each note and read it out loud and ask the kids to guess who wrote it. Each correct guess gets them a point and the person with the maximum points will be the winner. Have a small prize ready for the winner – any small trinket or candy bar will do.
5. Lie Detector Test
Ask the kids to sit in a circle on the floor. Each player will take turns and state 3 resolutions they are going to take for this new year. Two of them should be real, and the third, well, not so real! After a player states their resolutions, the rest of the players have to guess which is the fake resolution that each player had made. Whoever guessed the maximum number of 'real' guesses is the winner.
HAVE A ROCKING TIME PLANNING THIS ROCKING PARTY !!!