Burning too much money on birthday decoration? Here's the perfect solution for you – a birthday package!
Balloons, confetti, banners, party props – by the time you run from shop to shop trying to put them all together, you are done! Then comes the matter of putting them all up in a limited space. Not an easy task at all! To make matters worse, buying from different vendors does not assure quality or low prices. And the big board saying "No returns, no refunds", what a put off that is!
This year, do the smart thing. Ditch the hassle and go for a decoration package. From expansive backdrops, stunning stage decoration, party artists to a simple but tasteful celebration at home, a package can be customized exactly to your needs.
Worried it might cost a bomb? Don't be! The best part about a package is, there is one for every pocket. And when you choose to buy from reputed market leaders like PartyOne, you can be assured of a party experience that goes beyond your expectations.
Here are some of the best packages we recommend.
1.Classic entrance and stage decoration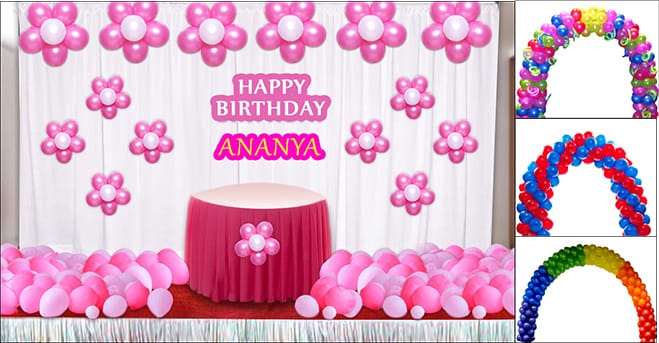 You can never go wrong with balloon arch and in this economical package, you have not one but three colourful options to make a strong entrance for your party. But that's just one part of it. We know the stage area decoration makes all the difference. With this package, you will get 10 x 7 ft cloth backdrop, latex balloon bunches on the stage and floor and our favourite – a personalized birthday banner!
2.Premium entrance and stage decoration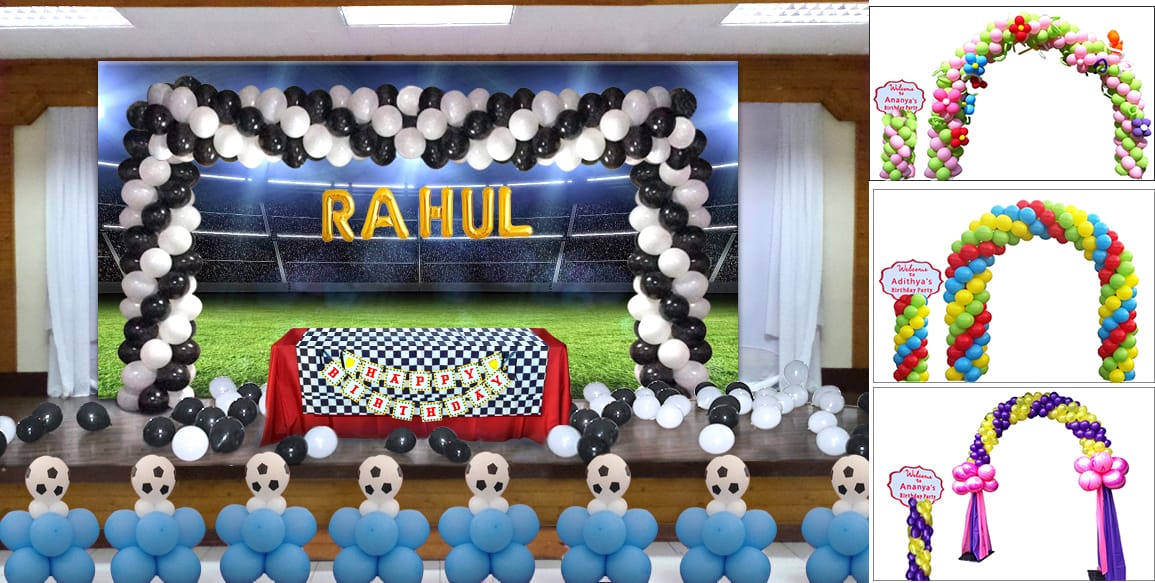 Is your little champ a football fan? We have just the décor you need. Make it a grand first look with a football-themed cloth or flex board background and golden alphabet balloons in the middle. The arch here, with black and white balloons, are shaped like a football post, giving you just the environment you need to host a sport themed party. But it's not just the football, you can customize the theme to whatever you want and be it a birthday party, an engagement function or graduation, the floor balloons, balloon pillars and personalized welcome board are sure to give you the perfect look to complement your fun occasion.
3.Elite stage decoration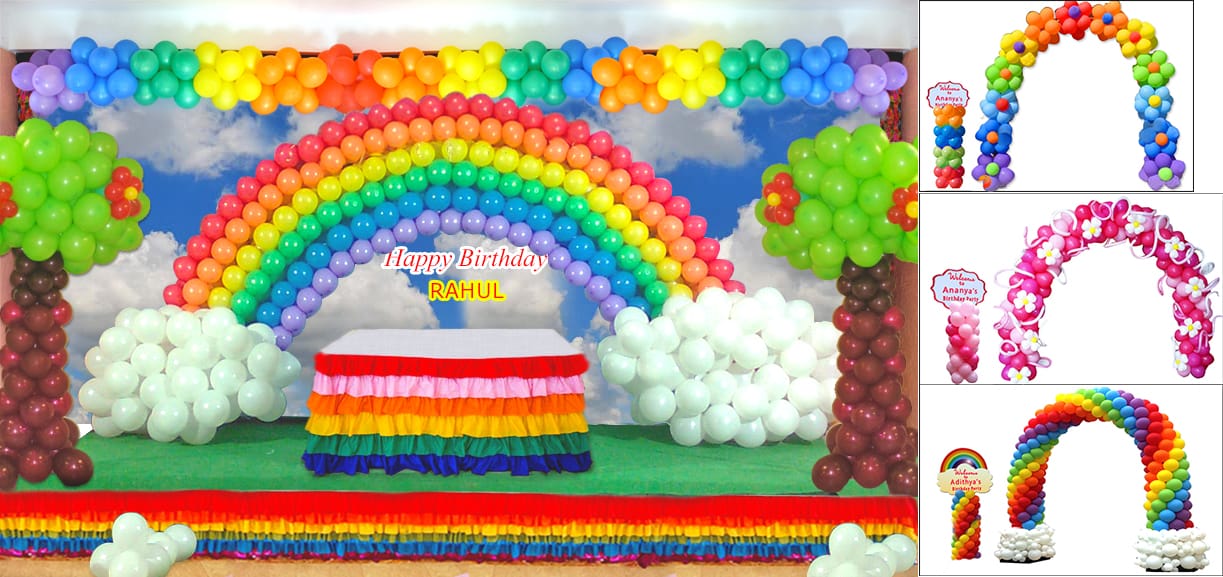 If you are considering having your party in an event hall or at your apartment clubhouse, having the right party background elevates the mood of the guests. So what does your party need to get that right look? If you are thinking of a polka dots, crown, transportation or dinosaur theme, this package is tailor-made for you. How about a stunning 12x8 ft rainbow balloon arch with balloon clouds? Or swans made of latex balloons on a metal frame? Balloon pillars of 3 ft and 6 ft with silver star foil balloons on top? That's not all, you will also be provided with a 12x8 ft sky design cloth backdrop, cake table decoration and the kids' favourite – single line arch with helium gas balloons!
4.Royale entrance and stage decoration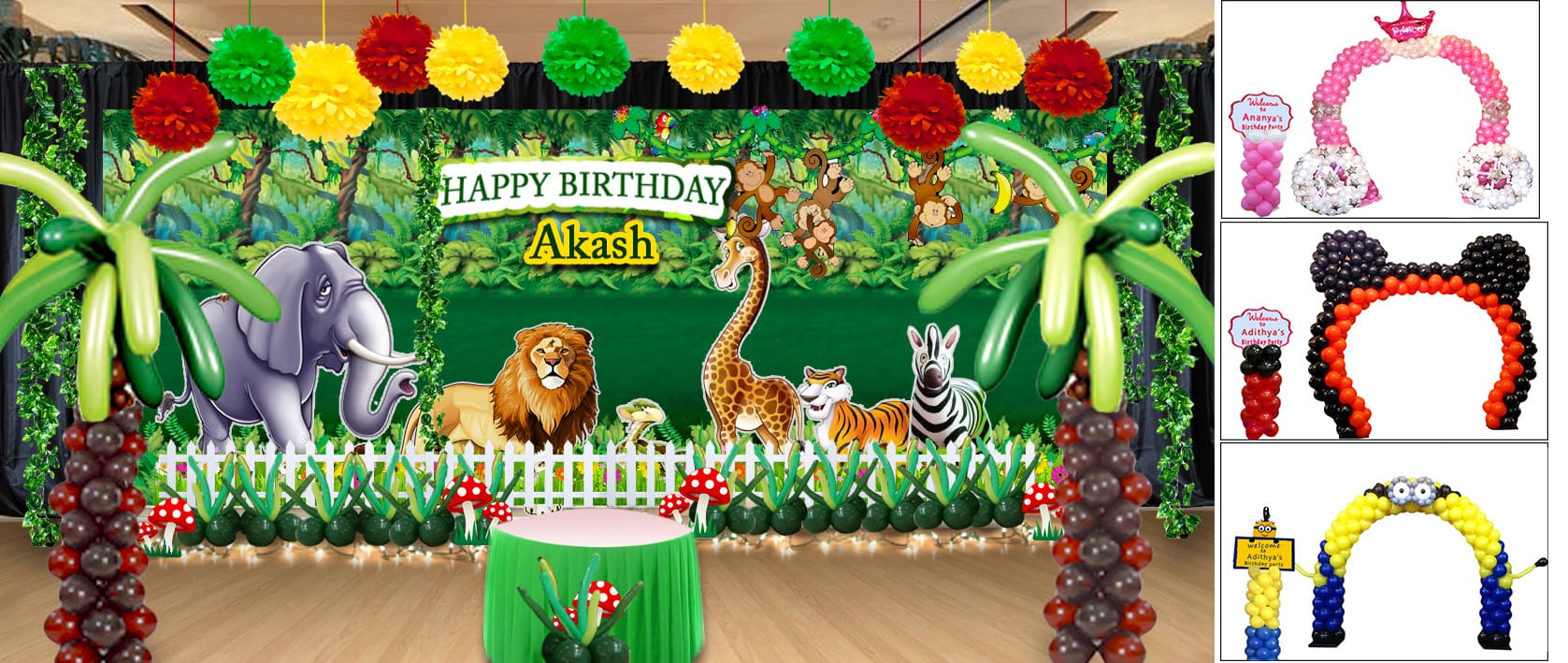 Your child deserves nothing but the best and on a special occasion like a birthday, bring the widest smile to his or her face with this ultimate decoration package. The jungle theme is an overwhelming favorite with kids and here's why. Your child and his friends will be welcomed to a hall with a large jungle theme flexiboard backdrop and vine creepers hanging down from various places, giving you a real jungle feel. There are palm trees, picket fence props, bright balloon shrubs and pom poms hanging from over the ceiling. Excited? Let's give you another fun option. How about an underworld theme with an aquatic balloon wall, complete with sea creatures and sea vines? You will love the balloon pillars on either side of the wall and a charming little octopus on top. Not your kind of party? From Incredibles, KungFu Panda, Nemo, Dora to Doraemon, just ask, and the party in your mind is sure to be translated into reality.
Click To View
5.Designer entrance and stage decoration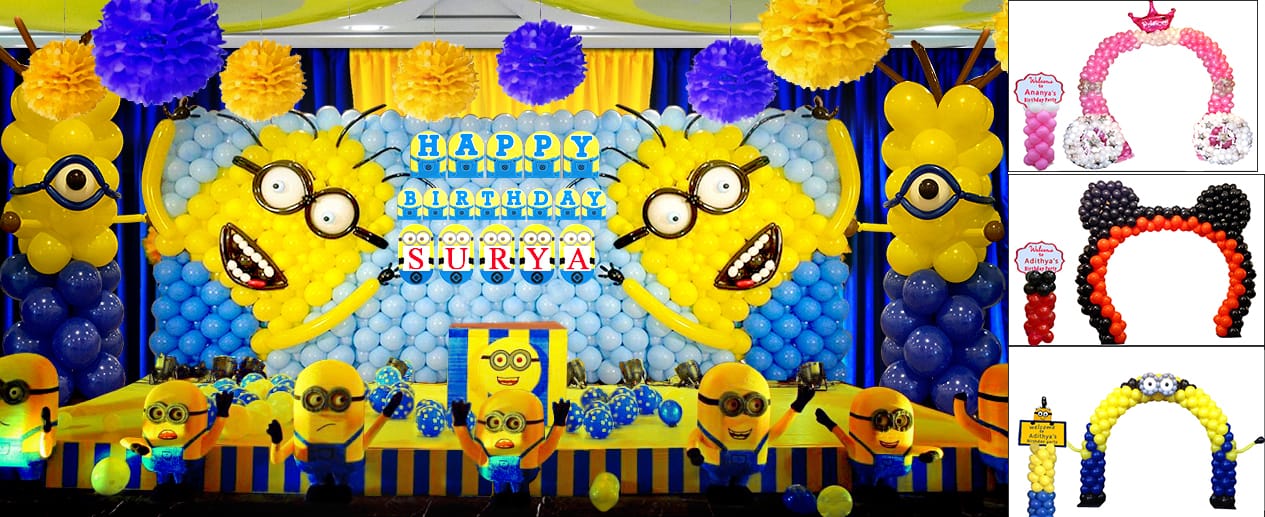 Fit for a prince or princess we say! Let your little royalty enter into a hall that that is no less grand than a castle. With balloon castle walls, cone piked towers and a majestic tower entrance, this is a celebration your child will never forget. Looking for a cute Minion theme? The iconic yellow and blue colours of the Minions are brought out creatively in every aspect from the balloon arch, balloon pillars to danglers. And what about the universal favourite – Mickey Mouse? Your little guests will love to click themselves near the six characters of the show. With plenty of floor balloons to get into the party fever, the little ones are sure to talk about it for a long time!
Want to find out more? Look us up at partyone.in or like our Facebook page for amazing party ideas and offers. They don't call us the 'one-stop party solution experts' for nothing!