Wedding table settings- Everything you need to know
A happy bride and groom, that's all a wedding needs- said no one ever! Even if they did, we know deep inside that everyone dreams of the perfect wedding. The key to that lies in the details. One such crucial detail that many overlooks is the wedding table setting. The first morsel of food shared as a couple among family and friends is a significant milestone. Why not give it the attention it deserves? Read ahead for useful wedding table setting tips.
1.Tree of life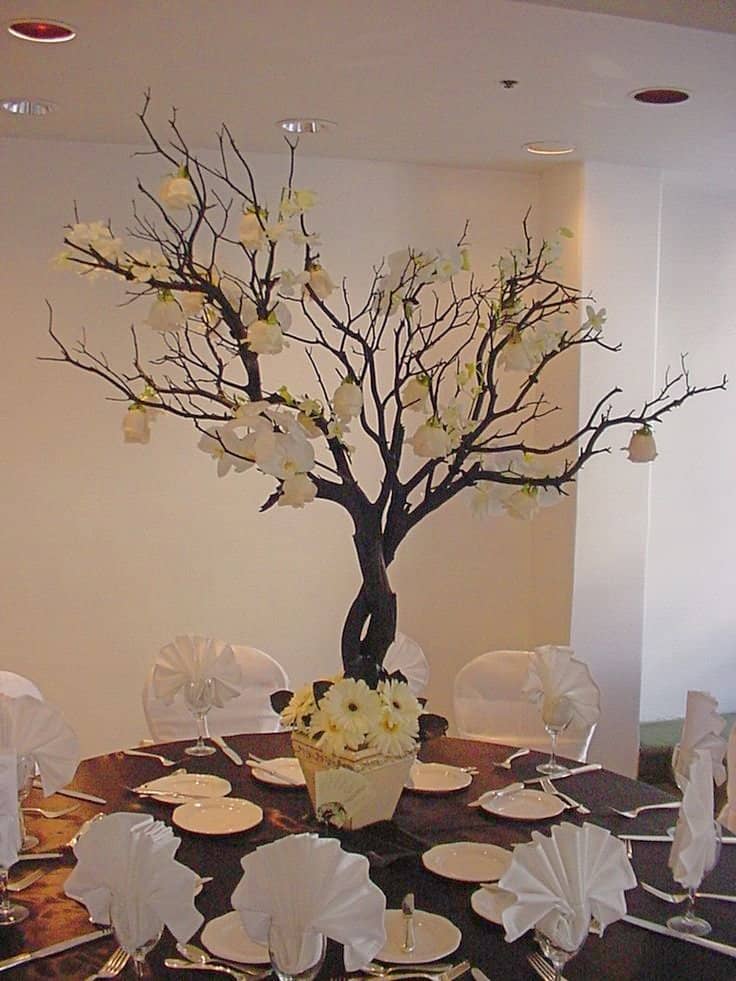 With the introduction of a new family member, the family tree grows and carries forward its rich traditions. What better way to acknowledge this exciting development than having a tree of life themed table setting? Arrange the tables in a circular fashion and place a "tree", an artistic installation using flowers, leaves and decorations in the middle. Connect each table to this tree with ribbon rolls to symbolize the people that make up the branches of this vast tree. You can opt for personalized tablecloths, all carrying a part of the tree like a puzzle or simply put in the initials of the happy couple.
2.Monochrome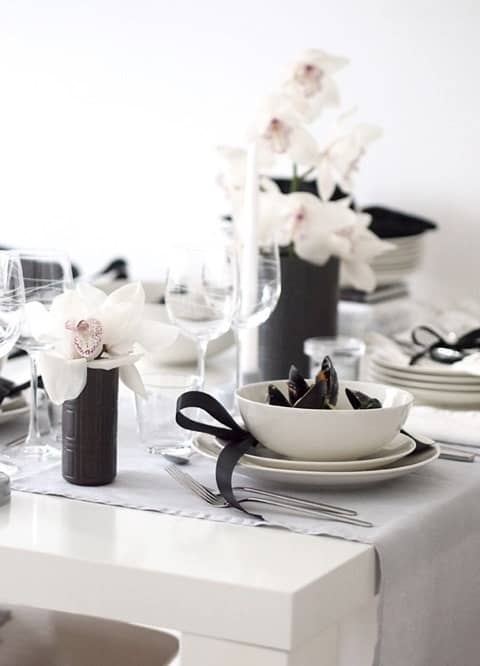 Monochromes signify commitment.
Through the thick and thin, the ups and downs, a strong marriage goes through black and white shades and emerges stronger. Celebrate this beautiful journey with a centerpiece that incorporates this thought. We suggest a grand black vase arranged with fresh white roses, lilies and gardenias. That is sure to be a striking center of attraction. Opt for black tablecloths underneath white plates, champagne glasses with black stems and monogrammed tablecloths. It goes without saying that matching lighting, and place cards will give an added effect.
3.Eco-friendly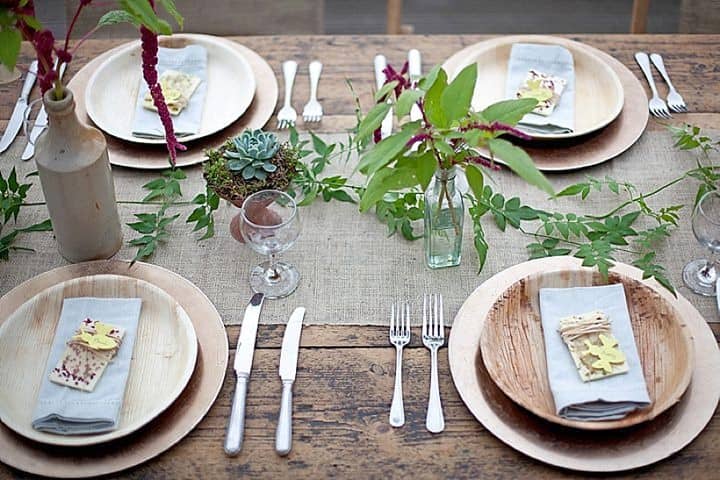 Are you the kind who feels strongly about the environment and its preservation? This table setting is tailor-made for you. Instead of paper and plastic decorations, you can make a statement by arranging the table with hand painted biodegradable pots showing a small sprout, that symbolizes the beginning of a new life. For the centerpiece, we suggest farm sourced floral pieces in a mix of all the classic favourites – spray roses, fragrant little jasmine stems and orchids. Then there is a smart little hack called citrus splash. Take recyclable clear glass mason jars and add in cut fruits and vegetables like tomatoes and lemons. Bound to catch the eye. Slip in a note inside that will create intrigue. Add in a long-stemmed rose and you will have a fine conversation starter. Now we all know that Fine China is a classic pick for wedding cutlery but you can win many a heart by choosing biodegradable alternatives. You'll be amazed at the variety of designer bamboo plates, knives and forks available these days. These work perfect for outdoor weddings in places like parks and beaches.
4.Elegant spread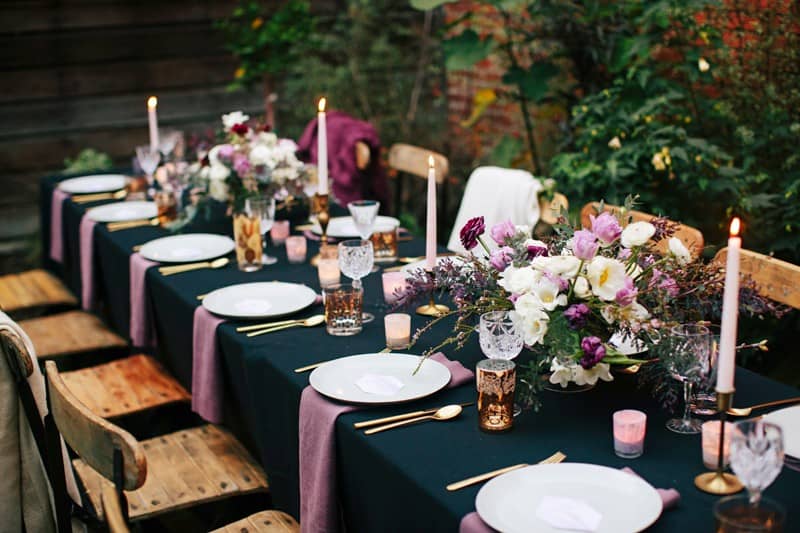 It's subtle yet striking. Modern yet retaining an old world charm, that's what this classic wedding table setting does to you. Crisp white linens laid out over polished wooden tables, brass candleholders with soft pink candles, white plates embossed with gold paint, bouquets twinned with pink, red, white and the odd lavender stem, all the hues of romance. Raise a gold-rimmed champagne glass and celebrate the start of this beautiful story.
5.Vibrant Indian setting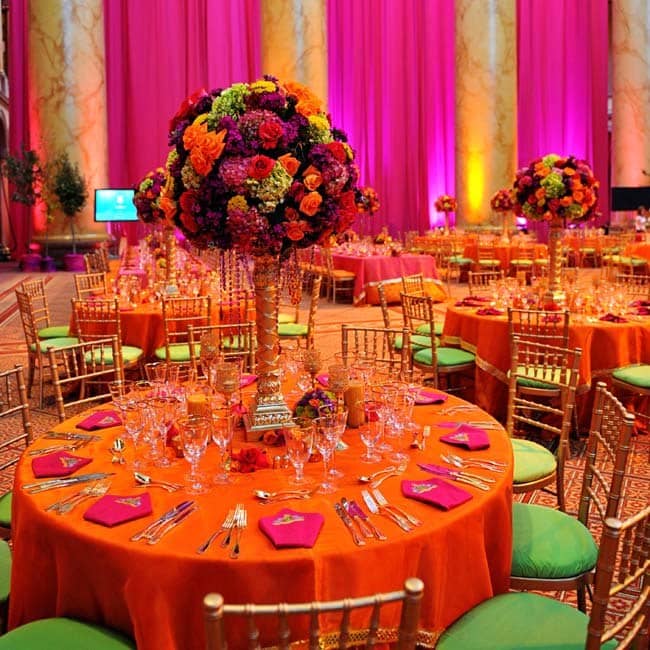 Bright, loud, unapologetic – if that's who you are, your wedding table setting should reflect it too. No room for subtlety with this one. Stack up rainbow bouquets with long tail satin ribbons on each table. Sit them next to colourful candles to add to the look. Ideally, you would want a pale yellow or off-white shade of table linen to compliment the vibrant colour scheme of your table. Wrap your cutlery with a magenta or orange napkin and go for plates that look as red hot as the food you serve. Hang up frilly ribbon decorations around the chair and stick in a bright red rose along the place card to liven the place up. Got kid guests? Make them feel special by putting up balloons and confetti around their chair. Get in a keg we say, put on the sound system at full swing and let the bubbly pass around in full flow. Celebrating to the fullest, isn't that what a wedding is supposed to be?
That's not all. You can customize your wedding table setting according to your likes, say football or even Game of Thrones! A wedding table setting says a lot about you as a couple and with a little effort you can come up with a setting that floors guests with its ingenuity, making it an occasion to remember.