Never Seen Home Balloon Decoration Like This. Pure Genius!
Archana Mohan - May 24, 2018
A party! Yay! Who doesn't love it? And when you are the host, it has to be special. And mind-numbingly brilliant. Obviously.
What is the first thing your guests will see when they enter your home? The decorations, of course! But a balloon here and a streamer there and a drab looking Happy Birthday banner, is that really how you want your party's 'first look' to be? Out with the old ways of doing things, we say. Out of the box and out of the ordinary, here are some super cool balloon decoration ideas for the house party of the century!
1.Floating photo balloons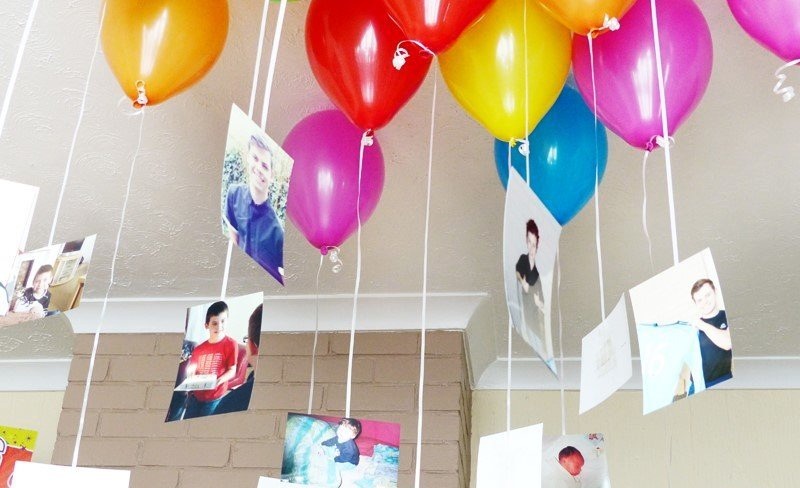 Photographs + balloons, why didn't anyone think of this winning combination before? Birthday, engagement, wedding or graduation, imagine the look on the face of the special person of the day when he walks into a room to see his cherished photographs float by from colorful balloons on the ceiling? Priceless!
All you need are helium balloons, thin sticks, glue and printed photographs. Stick the photographs to the thin sticks, attach them to the helium balloons and watch them do their thing!
2.Message balloons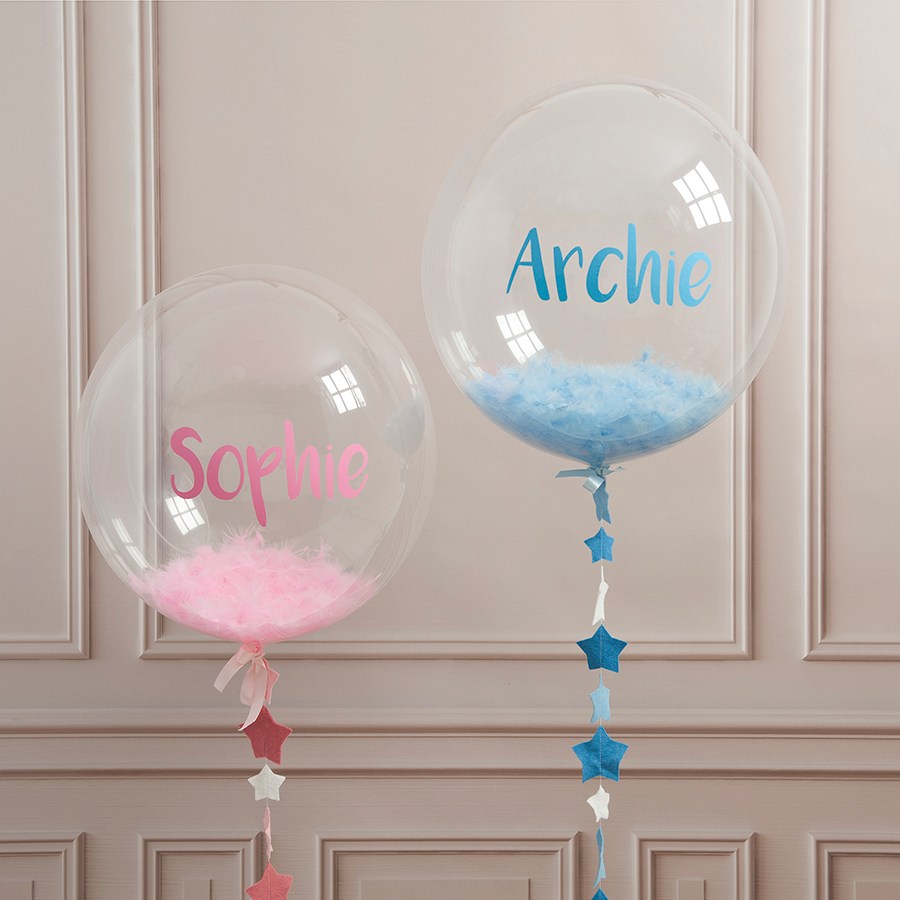 Balloons are free, vivacious and bright, so why should they be reduced to muted showpieces? Write up interesting, sweet or humorous messages on small chits and put them inside balloons. On both sides of the balloon, write the name of the guest to whom that particular chit is intended for with a black permanent marker. Blow them up and watch the fun! Young or old, everyone will be curious to know the message written for them. Here's a devilish hint – Save the balloon popping for the end of the party so your guests are practically pleading you to end the suspense.
3.Food balloons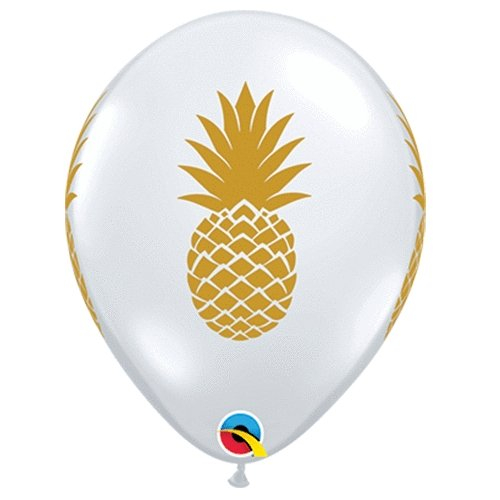 Balloons and food? What are we cooking? Top class stuff, we assure you. You see, balloons aren't just the pretty props in the background, they can be pretty functional too. Got a yummy menu of sandwiches, burgers, cookies, fruit punch and cake? Let your balloon be the perfect placeholder for you. Blow up a balloon and gently place it over a wide opened vase. Dab in some acrylic paint and draw a cookie or burger or whatever is the delicious spread you have got going. Once done, let it dry completely. Paste a string to its tied up end and place it on the food counter it represents. Fabulous and simple, right? Here's a tip from us to get it right – fill a little more than half of the air into the balloon and not to its brim so it doesn't burst easy. Also – prepare to make back-ups!
4.Flower balloons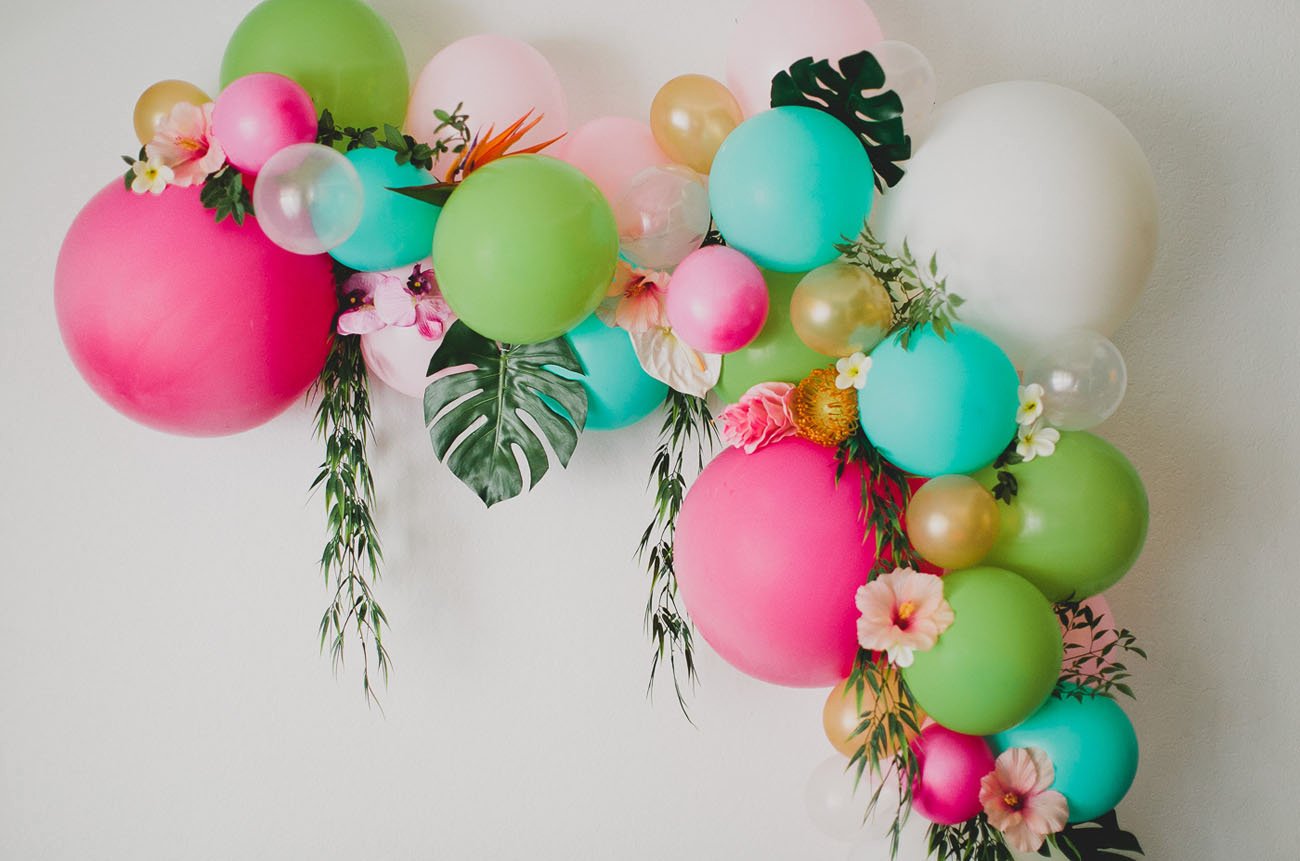 Flowers have that special 'X Factor'. You step into a room that's filled with the whiff of fresh flowers and all the tiredness and grumpiness of the day disappears. Why not let the party in your home turn into that fragrant haven for your guests? And we are not just talking about flowers here, we're taking it a step further – flower balloons!
Take large sized colourful flowers, any kind that are local to you. Cut off the stems. Blow up medium-sized balloons and stick the flowers over them with transparent tape. Add strings or ribbons to the bottom and arrange them at the entrance and other visible corners of your home. Your party will smell like sweet success!
5.Sticker balloons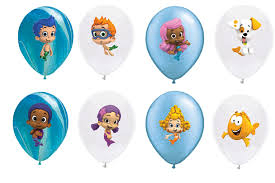 Your child loves sports cars but finding sports car-themed decorations have been a pain in the mind and the pocket! Psst, here's a fantastically thrifty idea for you. Pick up a few strips of sport car stickers (they are usually inexpensive) and stick them carefully onto half-filled balloons. You can draw in a race track, checkered flag or helmet if you have the drawing skill for it and voila! The sight of his beloved sports cars hanging down from the walls is sure to bring a click-worthy joy on his face.
6.Sweet glitter balloons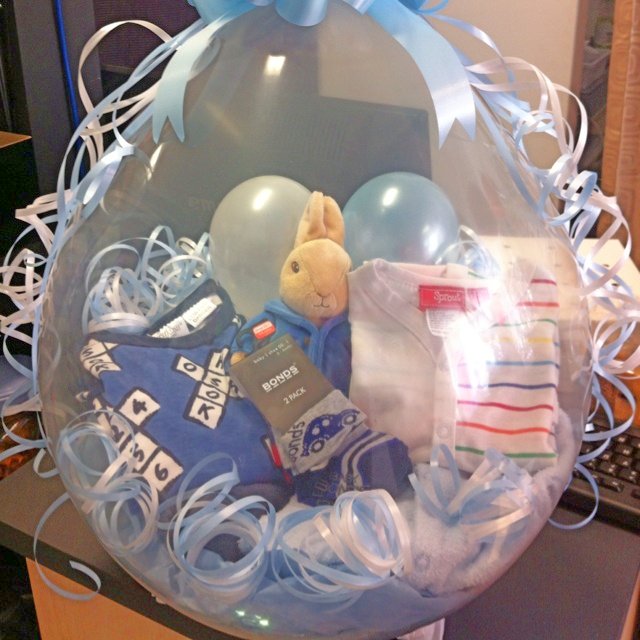 You have heard and seen glitter balloons but sweet ones? They exist! Remember pinâtas? They are papier-mâché containers that are broken during parties by the birthday child. Once broken, sweets and small toys fall out into the floor where the rest of the kids rush to grab them. Fun! But here's where your sweet glitter balloon pinâta will stand out.
Instead of the pinâta, you can push candy and tiny gifts (like erasers, sharpeners and mini cars) inside large sized balloons and blow them up till they are half filled. Add in glitter and you're all set. Instead of just one child, you will now have a party where every child can feel special by having their own pinâta to break. Add in music for a dramatic effect and count to three so the balloon pop is in unison.
Can't wait to implement these super ideas for your next party? We can't too! Keep innovating and follow our page PartyOne on Facebook for more fabulous ideas on throwing a party your guests will never forget.