The blushing bride, the enthusiastic aunt, the graceful grandma, the cute little toddler running about, mehndi or henna looks good on everyone. No weddings, festivals or special occasions are complete without the artistic application of mehndi.
Not only is this ancient practice known to cool you down but it also acts as a natural antiseptic cover against disease-inducing bacteria. Children have a universal love for art (and messy, sticky things!) so it is no surprise that they love mehndi and will pester you to no end till you get it done for them.
But let's face it.
Neither do their tiny hands have much room for elaborate designing nor do they have the patience for a long sitting. What design should you get for your child? Here are some fun and trendy mehndi designs specifically for kids.
1.Animated designs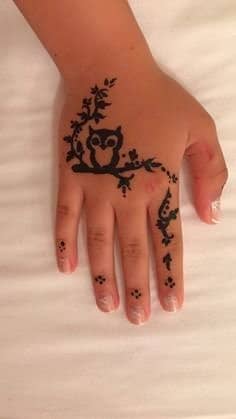 Intricate petals, waves and motifs are the staple elements of most mehndi designs but why not give it a funky spin for kids? Start as you would with a simple floral pattern and cover the tips, to give a rich highlighting effect. Then use little curves to make the Mickey Mouse's trademark ears or Peppa Pig's face in between or in a line pattern. Guaranteed to be a super hit!
2.Informative designs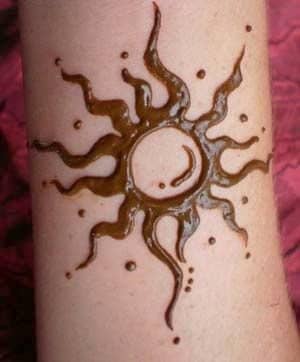 Very often we overlook a simple fact – that kids with their curiosity don't look at mehndi the way adults too. While adults are able to appreciate it as an art form, kids look for meaning. Mehndi is a surprisingly simple and effective way to impart knowledge while looking good. A simple sun pattern with long, wavy rays looks beautiful but also helps you introduce the concept of the sun and the importance of solar energy. Add in a moon or a star too and let the conversations begin! Don't be surprised if they ask you to add in the whole solar system.
3.Floral designs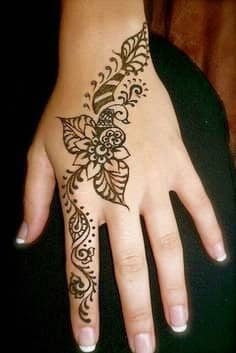 Chances are that your little one loves flowers. Symmetrical petals, creeper-like stems and filled out buds make for an attractive combination any way you draw it. So how can you make this a kid's favourite? Go for spread out designs like flowers connected by dots or one large sunflower or daisy with small stars or hearts as gap fillers. This will not only look great but also take lesser time to draw, making it ideal for the child that's always on the move.
4.Accessory mehndi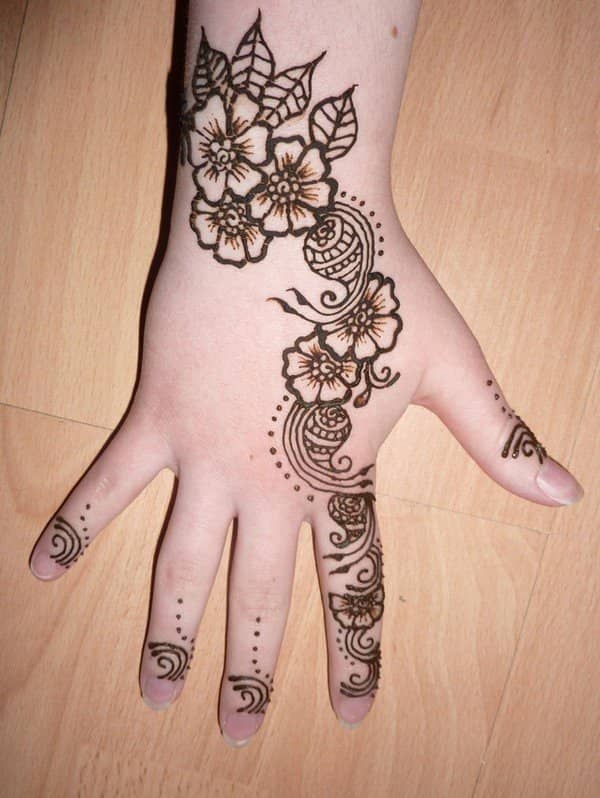 Think Mehndi and the intricately designed palms of a bride come to mind. But who said mehndi is only for the hands? Thanks to its versatile nature, Mehndi isn't just a design. It's a stylish accessory too. Kids love temporary tattoos but we know how harmful those paints are for the skin. Mehndi is the best solution for this. Give them a car, flower or teddy bear tattoo on the side of their shoulders or arms. You can even create bead patterned anklets, bracelets, rings and necklaces for them with mehndi. What a fun project that promises to be! Just make sure to use organic mehndi, always the safest choice for children's sensitive skins.
5.Traditional patterns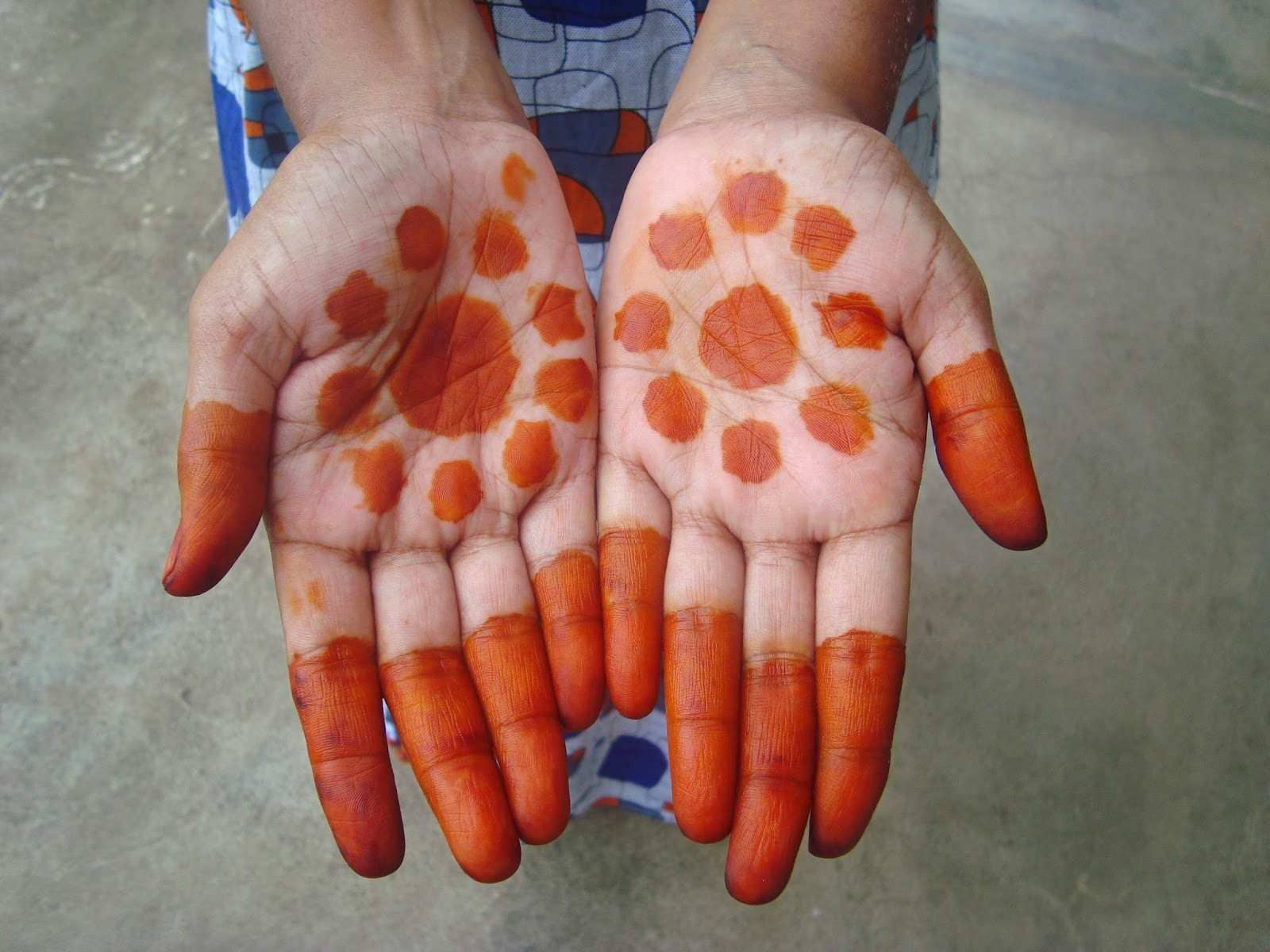 Old, after all, is gold. For all the awe-inspiring designs coming up today, when it comes to kids, nothing beats the good old simple designs with minimum effort and fuss. Try the south Indian style of having a big shaded circle in the middle of the palm and top tip of fingers dipped in henna, like a nail polish. Other traditional designs include one small flower with evenly drawn petals, spirals and a leaf on the back of the hand. The peacock is another auspicious symbol used in mehndi and you can incorporate the national bird's head or the whole body into your pattern. The possibilities are many!
6.Freehand mehndi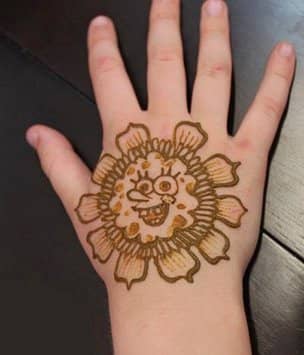 We are not denying it. Giving your child a mehndi cone is like inviting the King of mess with a red carpet but let's cut the kids some slack shall we? Creativity shouldn't be hampered by a little clutter. If they are keen on it, go ahead and allow kids a free hand (or two) to draw whatever they like. Smiley faces, lines, geometric shapes or even just scribbles. Freehand isn't always symmetrical or neat but it is the best design for a child to express itself artistically without being held to any standards. Also, remember that practice makes one perfect so offer your palms to them and you might end up being surprised at their creativity.
That distinct smell, the therapeutic feel of it on your hands and the final result – Mehndi make even regular days seem special.
With these designs, you are sure to relive your childhood and bring a big smile to the faces of your little ones.